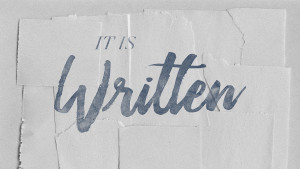 (John 8:31-32 NIV) To the Jews who had believed him, Jesus said, "If you hold to my teaching, you are really my disciples….Then you will know the truth, and the truth will set you free."
1. Make it the FOUNDATION of my life.
(Matthew 7:24 NIV) "Therefore everyone who hears these words of mine and puts them into practice is like a wise man who built his house on the rock.
1. What do I do when I don't understand?
2. What do I do when I don't like it?
√ POPULAR CULTURE.
(Exodus 23:2 NIV) "Do not follow the crowd in doing wrong. . . .
√ TRADITION.
(Mark 7:7-9 NLT) Their worship is a farce, for they teach man-made ideas as commands from God.' For you ignore God's law and substitute your own tradition." Then he said, "You skillfully sidestep God's law in order to hold on to your own tradition.
√ REASON
(Proverbs 16:25 NLT) There is a path before each person that seems right, but it ends in death.
√ FEELINGS.
(Judges 21:25 MSG) At that time there was no king in Israel. People did whatever they felt like doing.
2. Make it the BEST PART of my daily life.
(Matthew 6:33 NLT) Seek the Kingdom of God above all else, and live righteously, and he will give you everything you need.
FIND 15
√ 5 minutes in the WORD.
√ 5 minutes is WORSHIP.
√ 5 minutes in PRAYER.
(Philippians 4:6-7 NLT) Don't worry about anything; instead, pray about everything. Tell God what you need, and thank him for all he has done.
3. Make it GROW DEEPER in my life.
(Colossians 3:16 NIV) Let the message of Christ dwell among you richly . . . .
√ Get a TRANSLATION I like.
4. Make it a WEAPON for the challenges of life.
(Ephesians 6:13,17 NIV) Therefore put on the full armor of God, so that when the day of evil comes, you may be able to stand your ground, …. take the sword of the Spirit, which is the word of God.
(Ephesians 6:17 MSG) God's Word is and indispensable weapon.
MEET YOUR NEEDS
(Philippians 4:19 NIV) And my God will meet all your needs according to the riches of his glory in Christ Jesus.
HEALS YOUR BODY
(Psalm 103:2-3 NIV) Praise the LORD, my soul, and forget not all his benefits– who forgives all your sins and heals all your diseases,
WISDOM
(Daniel 1:20 NIV) In every matter of wisdom and understanding GOD MADE DANIEL ten times better than all the magicians and enchanters in his whole kingdom.
(James 1:5 NIV) If any of you lacks wisdom, you should ask God, who gives generously to all without finding fault, and it will be given to you.
FEAR
(Psalm 27:1 NIV) Of David. The LORD is my light and my salvation– whom shall I fear? The LORD is the stronghold of my life– of whom shall I be afraid?
(2 Timothy 1:7 NKJV) For God has not given us a spirit of fear, but of power and of love and of a sound mind.
PROVISION
(Philippians 4:19 NIV) And my God will meet all your needs according to the riches of his glory in Christ Jesus.
AUTHORITY OVER THE DEVIL
(Luke 10:19 NIV) I have given you authority to trample on snakes and scorpions and to overcome all the power of the enemy; nothing will harm you.
(1 John 4:4 NIV) You, dear children, are from God and have overcome them, because the one who is in you is greater than the one who is in the world.
(Romans 8:37 NIV) No, in all these things we are more than conquerors through him who loved us.
(Romans 10:9-10 NIV) If you declare with your mouth, "Jesus is Lord," and believe in your heart that God raised him from the dead, you will be saved. For it is with your heart that you believe and are justified, and it is with your mouth that you profess your faith and are saved.
Twitter: @williamsclint  or  @BCSylvania
Facebook: Clint  or  BCSylvania
          

BC podcast on iTunes