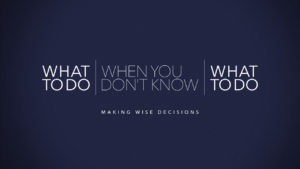 √ Being good at LIFE requires WISDOM.
(Proverbs 8:10-12 NLT) Choose my instruction rather than silver, and knowledge rather than pure gold. For wisdom is far more valuable than rubies. Nothing you desire can compare with it. "I, Wisdom, live together with good judgment. I know where to discover knowledge and discernment.
(Proverbs 14:12 NLT) There is a path before each person that seems right, but it ends in death.
(1 Kings 11:1-4 NLT) Now King Solomon loved many foreign women. Besides Pharaoh's daughter, he married women from Moab, Ammon, Edom, Sidon, and from among the Hittites. The LORD had clearly instructed the people of Israel, 'You must not marry them, because they will turn your hearts to their gods.' Yet Solomon insisted on loving them anyway. He had 700 wives of royal birth and 300 concubines. And in fact, they did turn his heart away from the LORD. In Solomon's old age, they turned his heart to worship other gods instead of being completely faithful to the LORD his God, as his father, David, had been.
(Jeremiah 4:1-2 NLT) "O Israel," says the LORD, "if you wanted to return to me, you could. You could throw away your detestable idols and stray away no more. Then when you swear by my name, saying, 'As surely as the LORD lives,' you could do so with truth, justice, and righteousness. Then you would be a blessing to the nations of the world, and all people would come and praise my name."
√ Return to the INTERSECTION.
(Luke 15:20 NIV) So he got up and went to his father. "But while he was still a long way off, his father saw him and was filled with compassion for him; he ran to his son, threw his arms around him and kissed him.
*REPENT.
(1 John 1:9 NLT) But if we confess our sins to him, he is faithful and just to forgive us our sins and to cleanse us from all wickedness.
(Joel 2:13 NLT) Don't tear your clothing in your grief, but tear your hearts instead." Return to the LORD your God, for he is merciful and compassionate, slow to get angry and filled with unfailing love. He is eager to relent and not punish.
*Go the RIGHT WAY.
(Proverbs 6:23 NLT) For their command is a lamp and their instruction a light; their corrective discipline is the way to life.
(Proverbs 1:2 NLT) Their purpose is to teach people wisdom and discipline, to help them understand the insights of the wise.
(Proverbs 1:7 NLT) Fear of the LORD is the foundation of true knowledge, but fools despise wisdom and discipline.
√ Godly wisdom is WRAPPED in GRACE!
(Hebrews 4:16 NLT) So let us come boldly to the throne of our gracious God. There we will receive his mercy, and we will find grace to help us when we need it most.
(2 Corinthians 12:9 NLT) Each time he said, "My grace is all you need. My power works best in weakness." So now I am glad to boast about my weaknesses, so that the power of Christ can work through me.
Facebook: Clint  or  BCSylvania
          

BC podcast on iTunes