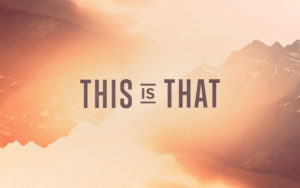 (Acts 2:12-15 NIV) Amazed and perplexed, they asked one another, "What does this mean?" Some, however, made fun of them and said, "They have had too much wine." Then Peter stood up with the Eleven, raised his voice and addressed the crowd: "Fellow Jews and all of you who live in Jerusalem, let me explain this to you; listen carefully to what I say. These people are not drunk, as you suppose. It's only nine in the morning!
(Acts 2:16 KJV) But this is that which was spoken by the prophet Joel;
(Matthew 4:23 NIV) Jesus went throughout Galilee, teaching in their synagogues, proclaiming the good news of the kingdom, and healing every disease and sickness among the people.
3 THINGS HEALING IS NOT
√ Healing is\was not for SHOW.
(Matthew 12:38-39 NLT) One day some teachers of religious law and Pharisees came to Jesus and said, "Teacher, we want you to show us a miraculous sign to prove your authority. "But Jesus replied, "Only an evil, adulterous generation would demand a miraculous sign; but the only sign I will give them is the sign of the prophet Jonah.
√ Healing is not DENYING FACTS.
(Exodus 15:26 NLT) He said, "If you will listen carefully to the voice of the LORD your God and do what is right in his sight, obeying his commands and keeping all his decrees, then I will not make you suffer any of the diseases I sent on the Egyptians; for I am the LORD who heals you."
√ Divine healing has not STOPPED.
(James 5:14-16 NLT) Are any of you sick? You should call for the elders of the church to come and pray over you, anointing you with oil in the name of the Lord. Such a prayer offered in faith will heal the sick, and the Lord will make you well. And if you have committed any sins, you will be forgiven. Confess your sins to each other and pray for each other so that you may be healed. The earnest prayer of a righteous person has great power and produces wonderful results.
(Isaiah 57:1 NLT) Good people pass away; the godly often die before their time. But no one seems to care or wonder why. No one seems to understand that God is protecting them from the evil to come.
√ Is God our PHYSICIAN? YES or NO.
(Psalm 103:3 NLT) He forgives all my sins and heals all my diseases.
(1 Peter 2:24 NLT) He personally carried our sins in his body on the cross so that we can be dead to sin and live for what is right. By his wounds you are healed. 
(Matthew 14:14 NLT) Jesus saw the huge crowd as he stepped from the boat, and he had compassion on them and healed their sick.
√ Is it God's WILL TO HEAL? YES or NO
(Mark 1:40-41 NLT) A man with leprosy came and knelt in front of Jesus, begging to be healed. "If you are willing, you can heal me and make me clean," he said. Moved with compassion, Jesus reached out and touched him. "I am willing," he said. "Be healed!"
(Luke 4:40 NLT) As the sun went down that evening, people throughout the village brought sick family members to Jesus. No matter what their diseases were, the touch of his hand healed every one.
√ Is God willing to HEAL ME? YES or NO.
(Mark 2:17 NLT) When Jesus heard this, he told them, "Healthy people don't need a doctor–sick people do. I have come to call not those who think they are righteous, but those who know they are sinners."
(James 5:14 NLT) Are any of you sick? You should call for the elders of the church to come and pray over you, anointing you with oil in the name of the Lord.
Twitter: Clint  or  BCSylvania