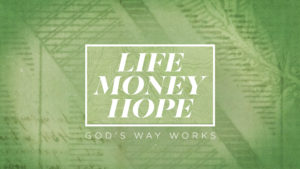 (Haggai 1:5-7 NIV) Now this is what the LORD Almighty says: "Give careful thought to your ways. ( You have planted much, but harvested little. You eat, but never have enough. You drink, but never have your fill. You put on clothes, but are not warm. You earn wages, only to put them in a purse with holes in it." This is what the LORD Almighty says: "Give careful thought to your ways."
(Luke 15:11-16 NLT) . . . Jesus told them this story: "A man had two sons. The younger son told his father, 'I want my share of your estate now before you die.' So his father agreed to divide his wealth between his sons. "A few days later this younger son packed all his belongings and moved to a distant land, and there he wasted all his money in wild living. About the time his money ran out, a great famine swept over the land, and he began to starve. He persuaded a local farmer to hire him, and the man sent him into his fields to feed the pigs. The young man became so hungry that even the pods he was feeding the pigs looked good to him. But no one gave him anything.
√ We BOUGHT A LIE.
(Proverbs 16:18 NLT) Pride goes before destruction, and haughtiness before a fall.
√ We begin SELF-DESTRUCTION.
(Proverbs 14:12 NLT) There is a path before each person that seems right, but it ends in death.
√ We DISCONNECT ourselves from those who can help.
(Proverbs 18:1 NKJV) A man who isolates himself seeks his own desire; He rages against all wise judgment.
(Psalm 88:8 NLT) You have driven my friends away by making me repulsive to them. I am in a trap with no way of escape.
(Psalm 34:18 GNT) The Lord is near to those who are discouraged; he saves those who have lost all hope.
(1 Corinthians 10:13 MSG) All you need to remember is that God will never let you down; he'll never let you be pushed past your limit; he'll always be there to help you come through it.
(Luke 15:17-21 NLT) "When he finally came to his senses, he said to himself, 'At home even the hired servants have food enough to spare, and here I am dying of hunger! I will go home to my father and say, "Father, I have sinned against both heaven and you, and I am no longer worthy of being called your son. Please take me on as a hired servant."'  "So he returned home to his father. And while he was still a long way off, his father saw him coming. Filled with love and compassion, he ran to his son, embraced him, and kissed him. His son said to him, 'Father, I have sinned against both heaven and you, and I am no longer worthy of being called your son.'
√ Acknowledge the REALITY of where you are.
(Psalm 51:5-6 MSG) I've been out of step with you for a long time, in the wrong since before I was born. What you're after is truth from the inside out.
(Pslam 32:3-5 MSG) When I kept it all inside, my bones turned to powder, my words became daylong groans. The pressure never let up; all the juices of my life dried up. Then I let it all out; I said, "I'll make a clean breast of my failures to God." Suddenly the pressure was gone—my guilt dissolved, my sin disappeared.
√ Develop a PLAN OF ATTACK.
(Proverbs 27:12 NIV) The prudent see danger and take refuge, but the simple keep going and pay the penalty.
(Psalm 34:22 NIV) The LORD will rescue his servants; no one who takes refuge in him will be condemned.
√ Do it NOW.
(2 Corinthians 6:2 NLT) For God says, "At just the right time, I heard you. On the day of salvation, I helped you."Indeed, the "right time" is now. Today is the day of salvation.
√ HUMBLY ask your FATHER for help.
(1 Peter 5:5-7 NLT) . . . "God opposes the proud but favors the humble."  So humble yourselves under the mighty power of God, and at the right time he will lift you up in honor. Give all your worries and cares to God, for he cares about you.
Twitter: Clint  or  BCSylvania