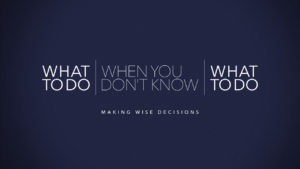 (2 Corinthians 4:17-18 NLT) For our present troubles are small and won't last very long. Yet they produce for us a glory that vastly outweighs them and will last forever! So we don't look at the troubles we can see now; rather, we fix our gaze on things that cannot be seen. For the things we see now will soon be gone, but the things we cannot see will last forever.
(Philippians 4:8 NLT) And now, dear brothers and sisters, one final thing. Fix your thoughts on what is true, and honorable, and right, and pure, and lovely, and admirable. Think about things that are excellent and worthy of praise.

√ Fix your FOCUS.
(Psalm 119:35 NLT) Make me walk along the path of your commands, for that is where my happiness is found.
(Exodus 16:1-4 NLT) Then the whole community of Israel set out from Elim and journeyed into the wilderness of Sin, between Elim and Mount Sinai. They arrived there on the fifteenth day of the second month, one month after leaving the land of Egypt.
 There, too, the whole community of Israel complained about Moses and Aaron.
 "If only the LORD had killed us back in Egypt," they moaned. "There we sat around pots filled with meat and ate all the bread we wanted. But now you have brought us into this wilderness to starve us all to death."
 Then the LORD said to Moses, "Look, I'm going to rain down food from heaven for you. Each day the people can go out and pick up as much food as they need for that day. I will test them in this to see whether or not they will follow my instructions.

√ Can the COMPLAINING!
 (James 1:17 NLT) Whatever is good and perfect comes down to us from God our Father, who created all the lights in the heavens. He never changes or casts a shifting shadow.
(Philippians 4:6-7 NLT) Don't worry about anything; instead, pray about everything. Tell God what you need, and thank him for all he has done.  Then you will experience God's peace, which exceeds anything we can understand. His peace will guard your hearts and minds as you live in Christ Jesus.
(John 6:5-11 NLT) Jesus soon saw a huge crowd of people coming to look for him. Turning to Philip, he asked, "Where can we buy bread to feed all these people?"
 He was testing Philip, for he already knew what he was going to do.
 Philip replied, "Even if we worked for months, we wouldn't have enough money to feed them!" 
 Then Andrew, Simon Peter's brother, spoke up.
 "There's a young boy here with five barley loaves and two fish. But what good is that with this huge crowd?"
 "Tell everyone to sit down," Jesus said. So they all sat down on the grassy slopes. (The men alone numbered about 5,000.)
 Then Jesus took the loaves, gave thanks to God, and distributed them to the people. Afterward he did the same with the fish. And they all ate as much as they wanted.

√ Give THANKS!
(John 6:11 NLT) Then Jesus took the loaves, gave thanks to God, and distributed them to the people. Afterward he did the same with the fish. And they all ate as much as they wanted.    
(1 Chronicles 16:20, NLT) They wandered from nation to nation, from one kingdom to another.
(1 Chronicles 16:27-29 NLT) Honor and majesty surround him; strength and joy fill his dwelling.
 O nations of the world, recognize the LORD, recognize that the LORD is glorious and strong.
 Give to the LORD the glory he deserves! Bring your offering and come into his presence. Worship the LORD in all his holy splendor.

√ WORSHIP.  
(Psalm 89:15-17 NLT) Happy are those who hear the joyful call to worship, for they will walk in the light of your presence, LORD. They rejoice all day long in your wonderful reputation. They exult in your righteousness. You are their glorious strength. It pleases you to make us strong. My faithfulness and unfailing love will be with him, and by my authority he will grow in power. 
(Psalm 138:1-2 NLT) A psalm of David. I give you thanks, O LORD, with all my heart; I will sing your praises before the gods.  I bow before your holy Temple as I worship. I praise your name for your unfailing love and faithfulness; for your promises are backed by all the honor of your name.