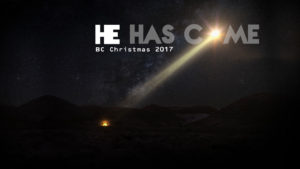 (Luke 2:8-10 NLT) That night there were shepherds staying in the fields nearby, guarding their flocks of sheep. Suddenly, an angel of the Lord appeared among them, and the radiance of the Lord's glory surrounded them. They were terrified, but the angel reassured them. "Don't be afraid!" he said. "I bring you good news that will bring great joy to all people.
(Hebrews 6:18-19 NLT) So God has given both his promise and his oath. These two things are unchangeable because it is impossible for God to lie. Therefore, we who have fled to him for refuge can have great confidence as we hold to the hope that lies before us. This hope is a strong and trustworthy anchor for our souls. It leads us through the curtain into God's inner sanctuary.
HOPE: confident expectation based on something solid.
√ Hope is not SOMETHING YOU DO.
√ Hope is something WE HAVE! 
(Romans 15:13 NLT). . . God, the source of hope, will fill you completely with joy and peace because you trust in him. Then you will overflow with confident hope through the power of the Holy Spirit.
1. God's PRESENCE.
(Psalm 62:5 NIV) Yes, my soul, find rest in God; my hope comes from him.
(Isaiah 40:31 NIV) but those who hope in the LORD will renew their strength. They will soar on wings like eagles; they will run and not grow weary, they will walk and not be faint.
2. God's PROMISE.
(Psalm 119:81 NIV) …. I have put my hope in your word.
3. God's PROCESS.
(Romans 5:2-4 NIV) through whom we have gained access by faith into this grace in which we now stand. And we boast in the hope of the glory of God. Not only so, but we also glory in our sufferings, because we know that suffering produces perseverance; perseverance, character; and character, hope.
4. God's PURPOSE.
(Jeremiah 29:11 NIV) For I know the plans I have for you," declares the LORD, "plans to prosper you and not to harm you, plans to give you hope and a future.
5. God's PLACE.
(Hebrews 11:14-16 MSG) . . .People who live this way make it plain that they are looking for their true home. If they were homesick for the old country, they could have gone back any time they wanted. But they were after a far better country than that— heaven country.