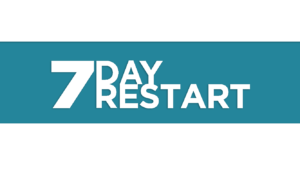 Day 1
(Heb 6:18-19 NLT) So God has given both his promise and his oath. These two things are unchangeable because it is impossible for God to lie. Therefore, we who have fled to him for refuge can have great confidence as we hold to the hope that lies before us. This hope is a strong and trustworthy anchor for our souls. It leads us through the curtain into God's inner sanctuary.
Day 2
(Isa 40:28-31 NLT) Have you never heard? Have you never understood? The LORD is the everlasting God, the Creator of all the earth. He never grows weak or weary. No one can measure the depths of his understanding. He gives power to the weak and strength to the powerless. Even youths will become weak and tired, and young men will fall in exhaustion. But those who trust in the LORD will find new strength. They will soar high on wings like eagles. They will run and not grow weary. They will walk and not faint.
Day 3
(Rom 8:5-6 NLT) Those who are dominated by the sinful nature think about sinful things, but those who are controlled by the Holy Spirit think about things that please the Spirit. So letting your sinful nature control your mind leads to death. But letting the Spirit control your mind leads to life and peace.
Day 4
(Phil 4:6 NLT) Don't worry about anything; instead, pray about everything. Tell God what you need, and thank him for all he has done.
Day 5
(Heb 4:14-16 NLT) So then, since we have a great High Priest who has entered heaven, Jesus the Son of God, let us hold firmly to what we believe. This High Priest of ours understands our weaknesses, for he faced all of the same testings we do, yet he did not sin. So let us come boldly to the throne of our gracious God. There we will receive his mercy, and we will find grace to help us when we need it most.
Day 6
(Psa 34:19 NLT) The righteous person faces many troubles, but the LORD comes to the rescue each time.
Day 7
(Heb 13:5-6 NLT) Don't love money; be satisfied with what you have. For God has said, "I will never fail you. I will never abandon you." So we can say with confidence, "The LORD is my helper, so I will have no fear. What can mere people do to me?"